In-flight Movies & Music
Your favorite entertainment on demand
With Air Tahiti Nui's entertainment program, there's no risk of getting bored during your flight! Enjoy the best movies and music albums available directly on the high-definition touch screen of your seat.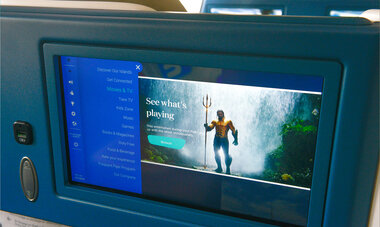 Selection of films, TV series and documentaries
Expand your horizon and your imagination with our selection of films, TV series and documentaries available on command. Our selections will please most of our passengers: animation movies, comedies, dramas, blockbusters... the choice is yours. And to get a little closer to what awaits you in French Polynesia, discover our selection of documentaries on Tiare TV, a unique channel dedicated to the islands of Tahiti.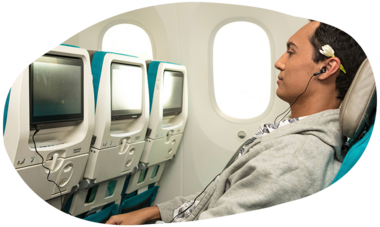 Music selection
Our music selection of all kinds offers you a moment of relaxation and serenity, to rest, sleep, or vibrate to the rhythm of your favorite melodies. Discover also a selection of tracks from Polynesian artists to immerse yourself even more in the atmosphere of the islands. Customize your own music playlist and create the soundtrack of your trip!
Image