Our fleet and travel classes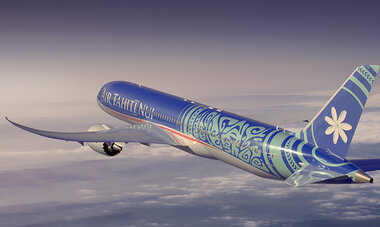 The Tahitian Dreamliner, a dream aircraft for a dream destination!
Our fleet is exclusively composed of Boeing 787-9s, named Tahitian Dreamliner. These blue birds connect French Polynesia to the world each day.
Our emblem, the Tiare flower, adorns the tail of our aircraft, which have tattoos on each side and two red lines representing the flag of our country, a symbol of our people and the 118 islands that constitute French Polynesia.
Our fleet has an incomparable Polynesian identity, both outside and in the cabin. Take a seat on board! The warmth of the Polynesian hospitality welcomes you as soon as you board.
A fleet designed for your comfort
We have carefully chosen and equipped our Boeing 787-9 Tahitian Dreamliner and all our travel classes to provide you with the best possible flight experience, inspired by the beauty of our islands.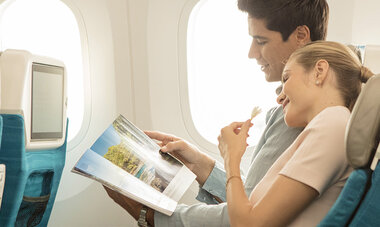 Wellbeing
The unspoiled beauty of Polynesia is also expressed in more subtle ways. Our aircraft feature innovative air purification and humidification systems, cabin pressurization management, and lighting systems that will help reduce your fatigue upon arrival. Our aircraft engines are also designed to be quieter to ensure a comfortable and truly relaxing journey.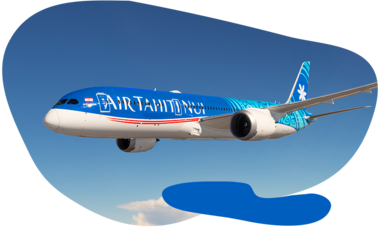 Peace of mind
Like a Polynesian pirogue gracefully gliding across the clear water of the lagoon, the Tahitian Dreamliner glides smoothly through the air thanks to its Smoother Ride technology. Turbulence-induced jolts are muted for a smooth ride.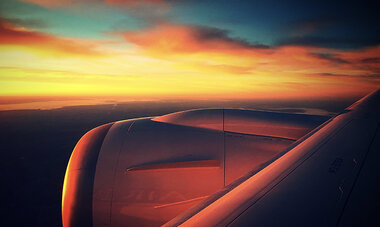 Delight
Enjoy breathtaking views in all three classes of travel. The 787-9 Dreamliner's windows are the largest ever produced. The electronic filters are fingertip-controlled for your convenience. They are also positioned so that all passengers can see the skyline, even from the center aisle seats.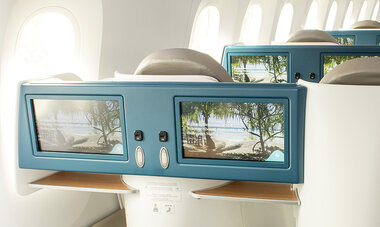 Entertainment
With our in-flight entertainment system, traveling has never seemed so easy! Enjoy a selection of movies, TV shows, documentaries, music albums, magazines and games on your seat's individual high-definition touch screen. Onboard Wi-Fi is also available at all times.
"Manureva, the bird of travel spreads its wings to bring you closer to your dreams. "
Image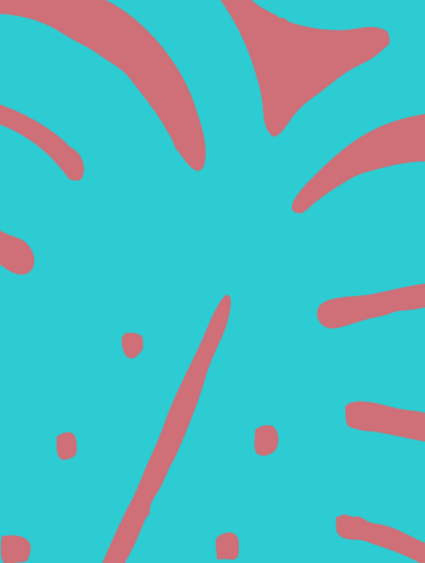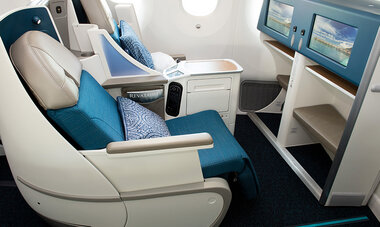 Poerava Business
The business class of our Manureva (birds of the travel) offers you the greatest comfort thanks to seats converting into a bed, extending to a length of 198cm (77.95in.).
Between each seat, a divider offers you more privacy throughout the journey. Let yourself be transported comfortably in a cozy cocoon, at complete peace of mind. Take advantage of the amenities, service and menus specially dedicated to this class of travel.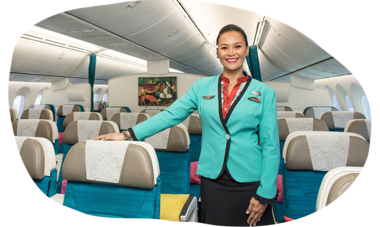 Moana Premium
Discover our Moana Premium class. An intermediate cabin with wider seats for a more relaxing travel experience.
Enjoy extra legroom with a comfortable leg and footrest that adjust to your height, with seatbacks that recline 20cm (7.8in) to help you stretch out during your trip. Air Tahiti Nui also offers you a travel kit and dedicated premium comfort amenities.
Moana Economy
The Tahitian Dreamliner welcomes you in our economy class to offer you an immersive and unique travel experience.
The Polynesian influences can be felt in the background music of our aircraft, the scent of the Tiare flower, and the smiles of our crew: it's the charm of our islands that we are proud to share with you. Settle into our 15 cm (about 5.9in) reclining seats, and enjoy the amenities of our Moana Economy cabin for a comfortable trip: accessory kit, pillow and blanket welcome you at your seat.
Image