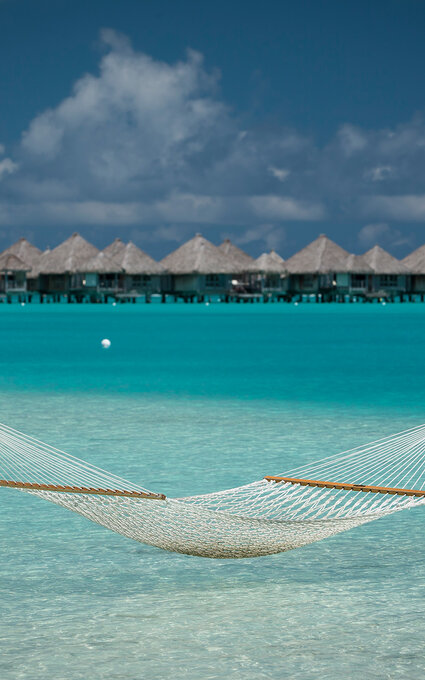 Cost of a trip to Bora Bora
Budget is essential for any vacation planning. What are we looking at, for a trip to French Polynesia?  
Going to Tahiti, then to Bora Bora can be like going on a ski trip: compulsory expenses on one hand (trip to the ski resort, lift tickets, renting or buying the equipment, etc.), and on the other hand options that we choose to grant ourselves.
Even if there are two ferries making occasional return trips from Tahiti to Society Island, you will most certainly fly to Bora Bora.
Like in many islands of French Polynesia, a vehicle will be needed (public transports are not an option) and of course, a place to stay. Budget for lodging, as well as activities and food can vary. 
Several criteria will be listed in your travel budget to visit Bora Bora: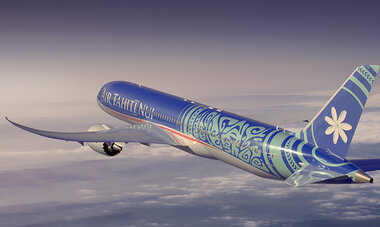 Return airline ticket: flight fares between Tahiti and Bora Bora
After the international flight to the Tahiti airport, you must now book the flight or the boat ticket to reach Bora Bora at the best price. 
The major airline for domestic flights in French Polynesia is Air Tahiti.  You will pay between 300 and 350 USD per person for a return ticket from Tahiti Papeete airport to Bora Bora airport. Other airlines are scheduled to operate in 2023, do not hesitate to compare their airfares as soon as available.
Aremiti and Vaeara'i operate ferries from Papeete Tahiti, with stops in Huahine, Raiatea and Bora Bora. If you like being at sea, sometimes rough, the budget for a ferry trip (between 12 and 15 hours) is about 180 USD per person. A good way to avoid a flight and reduce the cost of your trip to Bora Bora if you are traveling on a low budget.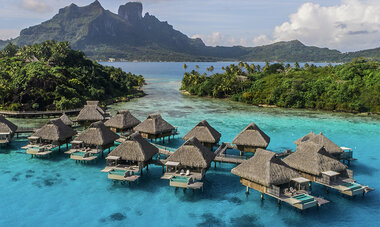 Accommodation price: luxury or economic ?
After the cost of the flight, comes the budget for the hotel nights in Bora Bora. Around the island, there are various accommodations: from camping to 5-star resorts, guesthouses (small authentic hotels) or other vacation rentals (to be booked on specialized websites), prices will generally meet your travel budget (starting at 100 USD per night).
Of course, Bora Bora is also renowned for its luxury resorts with overwater bungalows, between the island and the lagoon. The price of these accommodations is much higher. The rates for a garden bungalow start at about 700 USD per night, and the overwater bungalows at 1000 USD per night. In the 5 star resorts, these prices are even much higher. 
If you want to sleep over water without spending too much money during your trip, you can choose to book only one night or two nights in this type of luxury accommodation, and spend the rest of your stay in a less expensive hotel or in a guesthouse to discover the two aspects of Bora Bora and live a comprehensive stay while keeping your travel budget under control: the great luxury, and the authenticity of the interaction with the Polynesian people. It's the promise of a perfect trip!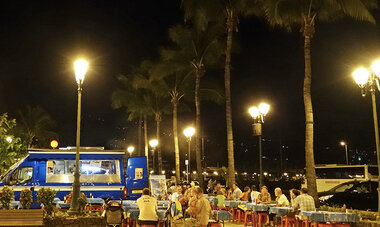 Food and restaurants around the islands
Once again, many options are available in Bora Bora: the roulottes, local name for Food-Trucks in French Polynesia, offer the most reasonable prices in a vibrant atmosphere. Chairs and tables are set as soon as 5pm, barbecues are turned on to prepare culinary specialties. It is just the perfect option for a low budget ! Dinner will cost you about 15-20 USD per person and large portions could even make part of the next day's lunch.
Bora Bora, like the other islands, has supermarkets with some well-known French or American brands. Mainly due to transportation costs for product importation, prices are higher than in the USA, but if you are on a low budget, shopping in a supermarket will be a better option than the restaurant. Don't hesitate to shop local. Many stands along the road of Bora Bora offer fresh fruits, vegetables, prepared meals and freshly caught fishes.
To try the local dishes during your stay, you may want to eat at a restaurant in Bora Bora. As the island has many restaurants and beautiful views, the price of restaurants on the beach or in hotels can be quite high. You will pay about 25-30 USD per dish in these types of establishments.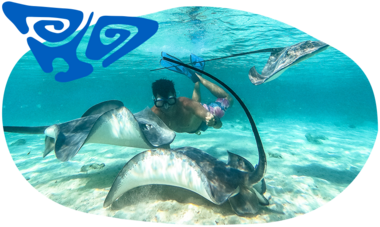 Activities rates
Many would not believe that French Polynesia offers a lot of things to do at no charge. The beach, swimming and hiking on the island's mountains are the best activities to do in Bora Bora, and by chance, they are totally free! So focus on the prices of transportation and hotels to travel to Bora Bora at the best price.
Despite luxury hotels' private beaches reserved for their guests, especially on motu (small islands), and private sections along the shore, Bora Bora has many beaches to try during your stay. The most beautiful is Matira. A beach as beautiful as those of any luxury hotel in the world! 
To access a motu (islets) of Bora Bora, please make sure that it is not privately owned. If it is not private and if you get authorization to stay a few hours, you'll be able to swim all around. Obviously, snorkeling won't cost you anything. 
If you want to try something else during your stay in Bora Bora, note that the rest of the activities vary greatly in terms of price: boat or 4x4 tours, scuba diving, boat rentals, helicopter tours above the island, jet-skiing or quad biking... the options are numerous. 
Bora Bora offers several amazing trails with historical themes. 
Tahitian dance shows are usually performed during dinner at the Island's largest hotels.
Cost of life in Bora Bora
To summarize this little budget travel guide to visit Bora Bora, you have the choice to establish the budget that suits you :  If you want to save money, avoid restaurants and other activities, and focus on camping or guest house accommodations. Activities like lagoon tours, quad excursions, car or scooter rentals, jet ski or helicopter tours and scuba diving have a cost. But once again, the wide range of options will surely meet your travel budget.
Visitors from large cities like Paris, New York, London, or Sydney are not surprised by the cost of life on the island. 
Many websites, travel agencies and social medias' posts provide a lot of information concerning the total expenses of a trip to Bora Bora.Depending on your choices, prices go up from one to ten.
So, what is the budget for a trip to visit Bora Bora? Honeymoon, trip of a lifetime or « bucket list », it all depends on your type of dreams. In any case Air Tahiti Nui will fulfill its mission to bring you to Paradise.