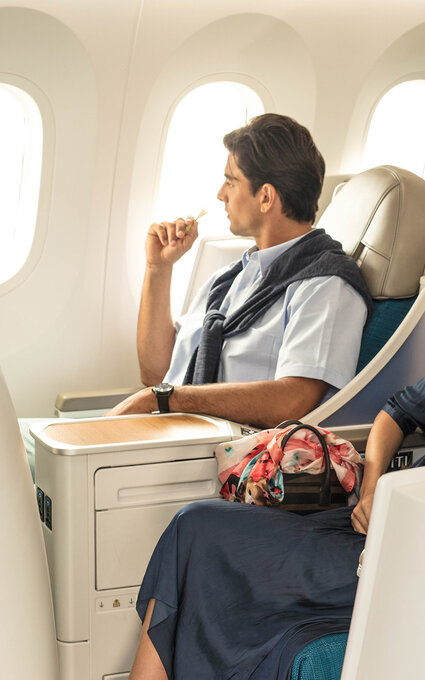 How long is a trip to the islands of Tahiti ?
Travel to the islands of Tahiti in the best comfort. The duration of your trip to Tahiti, French Polynesia (Papeete airport) will depend on which city and airport you're flying out from.
Once onboard Air Tahiti Nui, the immersion starts and you get a taste of what your vacation will be made of: smiles, brightness, colors, comfort. Maeva i Tahiti, welcome to Polynesia!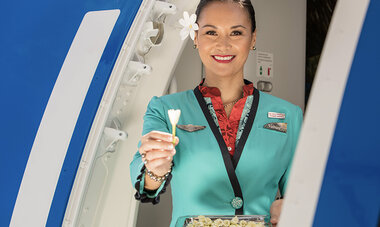 Your international flight to Tahiti Faa'a International Airport
First, boarding. The grayish airport alley and then a completely new environment: the staff in their blue uniforms, the Tiare flowers offered to you with a smile, the color of the seats, of the cushions… Welcome to the Air Tahiti Nui Tahitian Dreamliner, a small preview of Polynesia. Get ready to travel in the Polynesian atmosphere.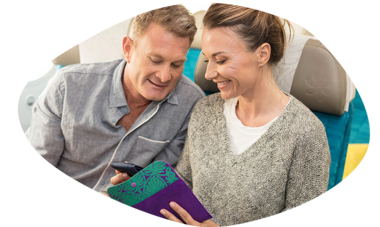 Flying time
Let's sit back and relax, watch the entertainment program, games, magazines, food menus (by the way I'm hungry). When everyone has boarded the aircraft, the captain greets us and gives us the flight information. Air control tower gives its go-ahead signal, and let's go. How long is the flight again?
From Los Angeles to Papeete Tahiti, about 7 hours 30 minutes. Less than 5 hours from Auckland. About 8 hours from Seattle, 11 hours from Narita, Japan. They are all direct flights, no stopover. For Paris CDG, an extra 10 hours and 30 minutes from Los Angeles, a little less from Seattle. In other words, your flight from Paris CDG to Tahiti takes about 20 to 22 hours with the stopover time included.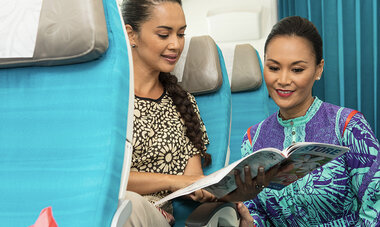 On board your flight to Tahiti
Only 30 minutes after take-off drinks and snacks are served, followed by the meal. Time to chat and enjoy a nice glass of wine, how nice.
Dessert and coffee. I take some time to read a magazine that I downloaded from the E-Kiosk App before takeoff. The person next to me is playing poker with two challenging players. I joined the game. A flight attendant distributes bottles of water. Thank you, we must stay hydrated while flying!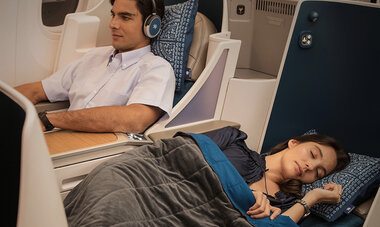 On board entertainment program
3 hours into the flight already. Dimmed light in the cabin.
I don't want to miss one of the movies on display. I get cozy into my chair, under the fleece blanket. Before starting, I scroll through the entertainment screen menu. What is "The Explorers" documentary series ? Who are they ? Or, should I ask myself : What topic am I attracted to? The sky, the ocean, the beach, the forest, the mountain, or the underwater world? Amazing, it feels like I can organize my Polynesian experience around my preferences. Unexpected activities, incredible discoveries, the choice is mine! What a country full of surprises, it is awesome! Your trip to Tahiti takes shape during your flight.
Are we already there?
I am yawning. A delightful drowsiness may possibly go with the plot of the movie that I finally start.
"Ladies and gentlemen, we begin our descent to Tahiti…". I stretch after the captain's announcement. The cabin is adorned with its most beautiful colors. Time to adjust our seats up and we are served a welcome snack. In a few minutes, we will fly over Papeete (pronounced Pa-pe-e-t-e), and Tahiti Faa'a airport, the gateway to French Polynesia. I find it hard to believe that we are already here.
How long is the flight to Bora Bora ?
Flying is still the fastest way
Traveling by plane to your dream island from the Tahiti Faa'a airport is the fastest way to get there. Your flight will take you straight to Bora Bora airport, located on a paradisiacal "motu" (islet). A good start to your trip! 
The major domestic airline is Air Tahiti. It flies ATR42 and 72. New companies have also emmerged. For exemple, Air Moana, Motu Link Airlines (Low Cost), Air Bora Bora (end of 2023). Don't hesitate to compare their offers to find the best airfare and flight.
Book a Tahiti Nui Helicopter flight
Should you decide to go on a VIP private helicopter tour, we recommend booking your flight with Tahiti Nui Helicopter. It also leaves from Tahiti Faa'a airport. Flying over the Society Islands and up to Bora Bora will be forever engraved in your memory. In Bora Bora, don't hesitate to book a helicopter flight for amazing pictures while flying above the top of Otemanu Mountain, the lagoon, the "motu", the reef, and up to this uniquely designed for lovers 'heart shaped' atoll called Tupai, at the north of Bora Bora. The tour can stop on one of the atoll's beaches and let you enjoy champagne. It is one of the most beautiful atolls in French Polynesia.
Between Tahiti and Bora Bora, the flying time is about 1 hour and 30 minutes.
Depending on airlines programs, some flights are direct, some stop in Moorea Huahine, Raiatea. 
Please be aware of schedules
You must be at Tahiti Faa'a international airport al least 1 hour and 30 minutes before boarding time. Everything is clearly stated, and the staff is fully fluent in English. You're still on French Polynesia territory, therefore there is no police control, and security checks are pretty fast to go through. 
For your comfort, a waiting area offers access to a snack bar, wifi, magazines and lavatories.   
Whichever window side you choose on the plane, pilots will fly over Bora Bora to show you its features and lagoons, before landing in motu Mute. 
I wish you the most amazing stay on the Pearl of the Pacific.