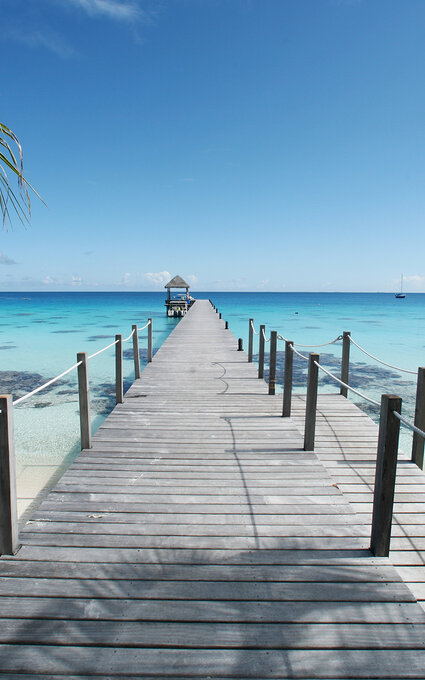 Is it safe to travel to French Polynesia?
Condé Nast Magazine classified French Polynesia as « the Friendliest country in the World » before Colombia and New Zealand. It says a lot about the quality of life and safety in French Polynesia. This mostly answers the question.
A stay in Paradise?
To explain further, here is what I can tell you.
Even though French Polynesia is not quite the ideal paradise as described by the first explorers, your stay will still give you a feel of life in paradise. The islands of Tahiti will give you a sense of safety that will allow you to live your trip with peace of mind: medical issues, safety in Papeete and on the beaches, drinking water... Here's everything you need to know before going on vacation in the islands.  
An entirely stable country
French Polynesia is part of the French Overseas Territories and has become a self-government status since 1984. Sovereign powers (Defense, security, justice, public freedoms, foreign policy, and civil rights) are assured by the High Commissioner, representing the French Government, and assisted by a dedicated Polynesian local government in Papeete. 
For all other powers and responsibilities, it is a democracy led by a Territorial Assembly, elected by universal suffrage. The elected majority chooses its President for 5 years, who will then constitute the government.
The political stability of French Polynesia is therefore guaranteed.
A currency indexed to the Euro
The local currency of the Islands of Tahiti, the French Pacific Franc, is guaranteed by the monetary and financial code, based on fixed parity with the euro since 1998. You can travel in French Polynesia without risk of currency exchange shortage or collapse of the local currency against the dollar.
Efficient health care system
In the Islands of Tahiti, the health care system is equivalent to that of a developed country. Doctors are qualified in Metropolitan France and the medical equipment is of the latest generation. In the event of a problem, your medical care is provided: the largest islands like Tahiti or Moorea are equipped with hospitals, medium size island community clinics, and medical evacuations to the Taaone hospital (Papeete, Tahiti) are fully operational.
French health hazard regulations
Many meals are prepared with fresh raw fish, more precisely cooked in salt and lemon. Polynesian gastronomy follows international health requirements. Please let your hosts know of any health issues, or a medical condition with specific dietary requirements (allergies, gluten-free, pork meat).
You can drink tap water in most places. You will be told when it is not drinkable. In any case, before you drink it, do not hesitate to ask your host or the hotel reception if you have any doubt.
It is also very easy to buy mineral water in a bottle or a larger container. 
A peaceful population
The French Polynesia social environment is very safe. There are no firearms in circulation.
Violence exists and unfortunately, most cases are domestic violence.
Stay alert and be careful if your belongings are left on a beach or in a rental property (thefts). Thefts are almost non-existent in hotels and guest houses.  
Bad encounters?
The islands of Tahiti are best known for the hospitality of their inhabitants. One feels welcome on each island. But of course, while going for a night-out in bars and discotheques, drinking too much alcohol can make some encounters not as pleasant as expected. It happens anywhere in the world, and French Polynesia is no exception. 
Please, for your safety, be careful of dogs while walking or biking in the Islands of Tahiti. They can be very nice when alone, sleeping on the side of the road or dreaming in the welcoming shade of a tree. They can become very aggressive when in a pack.
Other animals in the islands of Tahiti are all friendly, both on land and in the sea. You will especially meet many underwater species during your trip. To swim safely, simply ask about your swimming spot and the animals you may encounter there.
Travel insurance 
French Polynesia is therefore a very safe country. However, wherever you go, unforeseen events can always happen. As in all countries, the purchase of travel insurance is recommended for your trip. Depending on your package, your insurance may cover 
- medical expenses in case of a health problem in French Polynesia, as well as medical repatriation,
- loss or damage to your belongings once you arrive in French Polynesia or in the other countries you visit during your trip, 
- cancellation or postponement of your trip for reasons specified in your travel Insurance, 
- and many other services. 
Contact the insurer of your choice before leaving for French Polynesia to choose your travel insurance and travel in complete safety. 
And yes, last warning about the Islands of Tahiti: don't make the mistake of sleeping or snacking below a coconut tree. You do not imagine the weight of a coconut falling 15 meters.
You don't want to copy Keith Richard, The Rollings Stones' guitarist, 62-year-old, who decided to pick his own coconut. He can still remember his head trauma- ;)
Overall, there is no need to worry too much: you are on vacation in the friendliest country in the world!