Medical information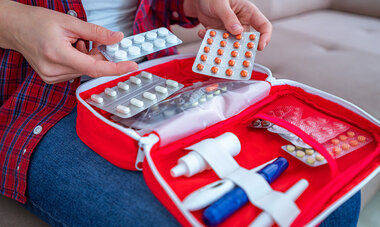 Discover all the information, guidelines and regulations regarding the transportation of syringes, medications, or respiratory assistance devices onboard our aircraft.
Syringes on Board
Air Tahiti Nui provides designated containers on its aircraft for the safe disposal of syringes and needles. Please inform the cabin crew upon boarding.
It is important to note that needles and syringes must not be disposed of in seat pockets or any other unsecured container.
Medications on Board
The cabin crew is unable to accept any human products, such as blood bags, or pharmaceutical products that require special storage. We recommend making necessary arrangements in advance.
Please be aware that for safety reasons, containers containing dry ice (up to 2.5kg / 5.51 lbs per passenger) must not be sealed, and a small vent must allow for the release of CO2.
Respiratory Assistance Devices
Respiratory assistance devices, such as portable oxygen concentrators and assisted breathing devices, are allowed in the cabin free of charge in addition to your regular baggage allowance. However, a medical certificate dated within the last 10 days is required.
Conditions for Carrying in the Cabin:
If you need to use the respiratory assistance device during the flight, it must be stowed under the seat in front of you or against you, in compliance with the safety regulations. 
Please note that these devices are not allowed at seats located at emergency exits, and they must also comply with the dimensions and weight requirements for carry-on baggage.
Conditions for Acceptance and Use During the Flight:
If your respiratory assistance device is battery-powered, it must be approved by the FAA (Federal Aviation Administration) and have sufficient battery power to cover at least 1.5 times the expected flight time. 
We recommend checking the battery life of your device before your flight and carrying extra batteries if needed. Please be aware that there are specific transport conditions for lithium batteries, which can be found on our "Regulated Baggage" page of our Baggage Policy.
For electrical equipment requiring a power outlet, such as respiratory devices that need to be plugged in, this is only allowed in Poerava Business and Moana Premium class. 
The electrical outlets on the seats in these classes have a maximum power output of 1A-140Watts and 110 Volts/60Hz. Please make sure that the power consumption of your device does not exceed these limits.
Only specific models of portable oxygen concentrators are allowed to be plugged in on board our aircraft:
Inogen One G3
Inogen G4
Inogen G5
Simply Go
Solo
Eclipse 5
If you have a different model, please contact Air Tahiti Nui with your request and device specifications for a compliance study.
As an additional precaution, we recommend charging the batteries of your device before your flight and carrying extra batteries in case the outlets are deactivated during the flight.
For further information, please contact your local Air Tahiti Nui agency, reservation service, or travel agent.