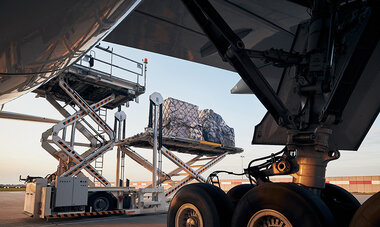 Ship your personal belongings as cargo with Air Tahiti Nui
Did you buy souvenirs, are you moving, transporting bulky items, or have you exceeded your baggage allowance? Don't worry, we have the solution: transport your personal items as unaccompanied baggage in cargo! Leave your bags and parcels with us and our Cargo Air Tahiti Nui team will take care of getting them to their destination.
How do I send a package by freight?
Step 1: Estimate the rate and book your shipment. We calculate the rates of your unaccompanied baggage shipments based on the packages to be sent and the countries of departure and destination. Some regulated items are subject to specific pricing, such as valuables and perishables. Contact us to find out our rates and to book the shipment of your bags as freight.
Step 2: Pack your packages. Packages will be handled many times during transport. Carefully pack your belongings with a strong, sturdy outer packaging to prevent damage.
Step 3: Drop off your packages at the indicated drop-off point. In Tahiti, the drop off of your package must be done with our Assistance company at the Tahiti Faaa airport cargo terminal.
Step 4: Collect your shipment. You or your recipient will be able to pick up your packages from the handling companies that represent Air Tahiti Nui at each station.
Dangerous Goods
Some items classified as "dangerous goods" are regulated or prohibited for transport. For example, aerosols, perfumes, alcoholic beverages, corrosive or flammable liquids, batteries, gas cylinders, etc... Please refer to the list of prohibited or regulated items before submitting your parcel to our Cargo department.
Track your shipment online
Get an update on your shipment whenever you want! Air Tahiti Nui offers the possibility to track your shipments in real time with its online cargo tracking tool. Simply enter your package number to find out the progress of your shipment.