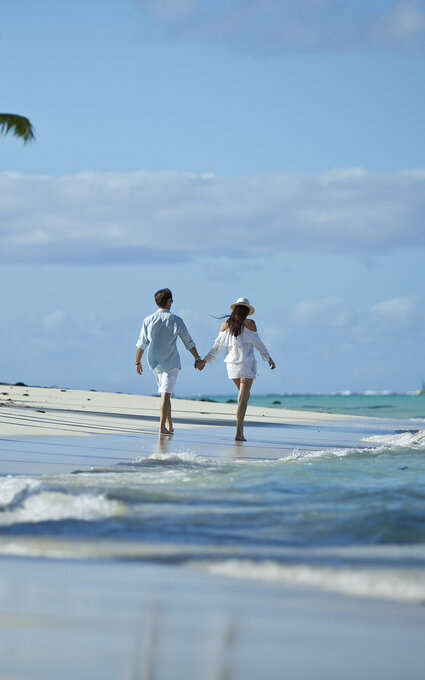 The most beautiful beaches of Tahiti
Tahiti has many beaches. We didn't try to list all the swimming spots, but we have selected the most exceptional ones. For swimming, snorkeling, surfing, or just sunbathing on some of the best beaches in French Polynesia... there are so many things to do during your trip on The Islands of Tahiti. 
Before inviting you to discover the best beaches on our islands, let me ask you a question: what is your favorite color? Golden black, milky white? Light beige, pale pink, champagne yellow? This is significant because you might want to choose your beach by the color of its sand. Like the rest of French Polynesia, Tahiti might be famous for its miles of white sand yet the island also draws travelers to many beaches with different sand colors.
That's what's so magical about Tahiti : in just one island, you can enjoy a variety of beach colors that also can be found in many different parts of French Polynesia: the golden sand beaches of Moorea, the pristine beaches of Rangiroa and Bora Bora, or the raw beauty of the black volcanic sand in the Marquesas Islands. 
The most historical beach in Tahiti
You won't find white sand on this beach, but fairly fine black sand, sparkling with golden highlights. The beach of Point Venus in Mahina is a place of huge historical significance. When Wallis arrived in Tahiti in 1767, his two ships dropped anchor in Matavai Bay, between the famous Venus Point to the north and Iriti Point under the cliffs of Tahara'a to the south. His name comes from James Cook's first expedition in 1769. He chose to travel to Tahiti for two reasons; to find the southern continent and observe the transit of Venus as part of a global scientific experiment. Indeed, European scientists were sure that observing its transit from different parts of the world would allow, using trigonometry, to finally calculate the distance between the Earth and the Sun. Cook and his crew settled on the tip of this cape north of Tahiti - soon to be renamed Pointe Venus. 100 years later, in 1867, the first lighthouse in Tahiti was erected. It is today one of the local's favorite beaches, especially for families with small children and aspiring young surfers. One can also enjoy this fine black sand beach burning in the sun and the sweetness of the water. The place is perfectly equipped (parking, showers, snacks). Ideal for a few hours of relaxation.
If you travel to Tahiti and French Polynesia, do not miss this exceptional beach during your trip. Its unique beauty, history and view of the island of Moorea make the Pointe Venus beach very popular: it is considered by locals and visitors alike to be one of the best beaches on the island, and a true must-see in French Polynesia.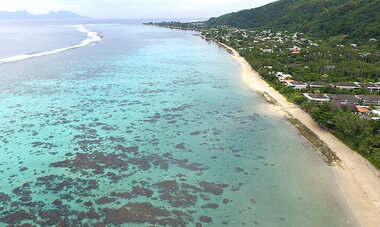 Vaiava - a sandy beach and lagoon in Punaauia
Vaiava (or PK 18) is Tahiti's most popular and most visited beach, located 18 km (11 miles) from Papeete. In French Polynesia, it is as famous as Matira, the iconic beach of Bora Bora. It is also one of the few beaches with clear sand of all shades, from beige to gray. For over a mile, you will only need a mask and a snorkel to experience unique and unexpected encounters with aquatic wildlife. 
Unlike the beaches on the north and east coasts of Tahiti, Vaiava Beach is lined with white sand that gives - within the reflection of the sky - its turquoise color to the lagoon.
An ideal place for snorkeling with its multicolored coral outcrops throughout the lagoon, home to thousands of fish, a few blacktip reef sharks, or even spot turtles for the luckiest of you. But it also holds wonderful surprises like starfish, dragon-Pisces, pufferfish, or longhorn cowfish… You would spend the whole weekend there if there weren't so much to discover around the island. It's an incredible first encounter with the underwater fauna that reigns in the lagoons of all the islands. Vaiava is one of the best beaches in Tahiti and French Polynesia, ideal to enjoy a first glimpse at the wonders that you can find during your trip in Moorea, Bora Bora,  Rangiroa or any other polynesian islands!
Other places of interest in Tahiti
If you extend your stay in Tahiti, then we recommend you, during your tour of the island, some refreshing breaks to go snorkeling, have a picnic, or just enjoy the view...
Faa'a reef flat
It is not a beach, but a white sand reef flat very popular by locals to enjoy a barbecue on Sunday with friends. Jet skis, paddles, motorboats, and va'a blend harmoniously in a musical and festive atmosphere, with the translucent lagoon of Tahiti in the background.
Taharu'u Beach near Papara
Take a trip to the west coast of Tahiti. The renowned black sand beach is one of the best surf spots on this coast (river mouth spot).
Vairao Road, Tahiti Peninsula
Among the best beaches in Tahiti, Maui Beach is worth a visit. This narrow beach is famous for welcoming the passengers of the ocean liner France in 1974. You can always see huge bollards installed specially for the occasion. It is not quite a swimming or snorkeling area due to its lack of depth, but it is ideal for relaxing and enjoying a drink with friends.
Toaroto beach, in Punaauia
Located 15 km (9 miles) from Papeete, the beach of Toaroto is very popular among the locals, who appreciate it for its peacefulness and its view of Tahiti's sister island, Moorea. Here, you can enjoy a little snorkeling or relax on the beach. 
Where black sand is King
Tiarei at Hitia'a o te ra (East coast of Tahiti), Ahonu (far north of the island), and Lafayette (Arue, south of Matavai Bay) - three other beautiful black sand beaches in Tahiti - where we recommend stopping by on your trip on the island.