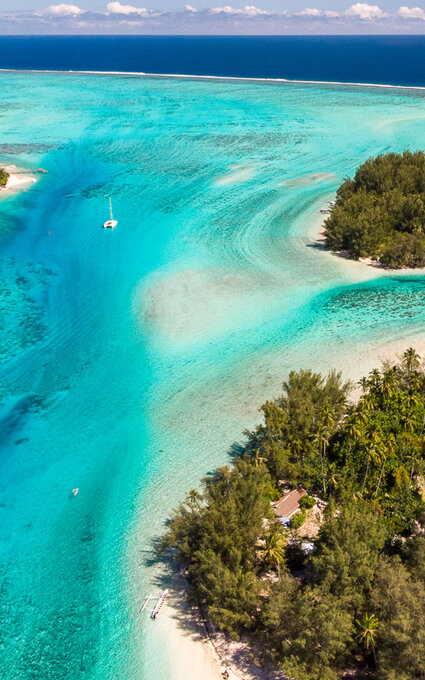 The most beautiful beaches of Moorea
Moorea has many pretty beaches around its coastline, where you will find some of the most beautiful and best beaches of the Society's islands in French Polynesia. They are called Temae Beach, Ta'ahiamanu, Haapiti or Tiahura Beach. They compete between beauty and their calls for relaxation, with coconut palms, turquoise water, and white sand in the background. Follow the guide to find your favorite beach in Moorea !
Depending on your travel's final destination in Moorea, you will start your island tour with 2 options. From your arrival in Vaiare, you can either head north by turning right or south by turning left when exiting the Moorea ferry terminal. Let's follow the road most taken, on the right, heading for Teavaro, Temae, and Maharepa.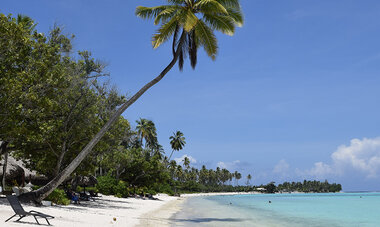 Nu'arei Bay Spot : one of the best beaches in Moorea
Before Temae Motu, the first beach you will see is Nu'arei Bay, where the Sofitel Ia Ora Moorea Resort is settled. A translucent lagoon, the distant reef of the island on which the waves hit in a soothing purr, blue and green colors vary according to the breeze and the clouds, a place easily called Paradise. Nu'arei Bay is the perfect place for swimming around coral outcrops, with thousands of fish and their mesmerizing colors - sometimes unreal. You will discover the beauty of French Polynesia and enjoy total peace there since the area is protected.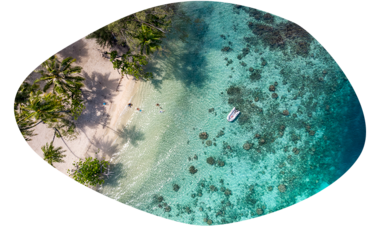 Ta'ahiamanu public Beach : a little paradise
Between the two bays of PaoPao and Ōpūnohu stretch a place renowned among tourists and locals in Moorea: Ta'ahiamanu public beach. On the island, a Well-equipped and guarded parking, food trucks, trees offering shade, and a thick white sand beach, fully restored in 2019. The panorama immerses us over Ōpūnohu Bay, revealing the beauty of Moorea. But it is underwater that you will be astonished and fascinated by the fauna of French Polynesia. Once past the reef flat, there is a steep drop-off. Welcome to the kingdom of stingrays and eagle rays! You might also meet blacktip reef sharks patrolling at the bottom of the lagoon. The show is unforgettable.
Moorea has many pretty beaches around its coastline, where you will find some of the most beautiful and best beaches of the Society's islands in French Polynesia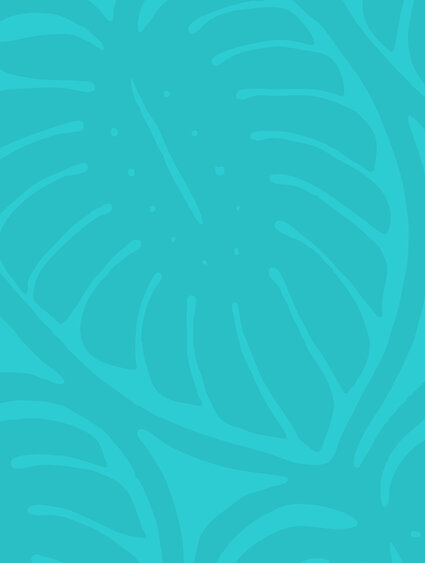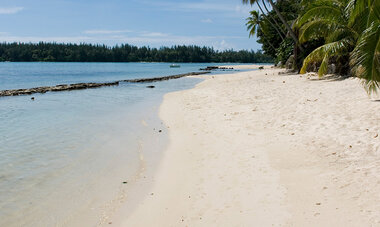 Hauru Beach - Haapiti
After Papetoai village, continue your island tour for a few kilometers, go over the former Intercontinental Moorea Hotel, then head to the "Petit Village." There, over several kilometers, often public, sometimes privatized, the long beach of Haapiti is also prominent on the island, located near Tiahura beach. This area of the island is very touristic. There are countless water activities: snorkeling, scuba diving, swimming with sharks and rays, paddleboarding, license-free boats in the lagoon, kite surfing, jet-skiing, and boat trips around Moorea island and motu…
After swimming, you will have various choices of snacks and restaurants, bars and food trucks, souvenir shops, and Tahitian pearls. Travel to French Polynesia and enjoy your stay to the fullest.
Tiahura motu sandbar
From the beach of Hauru - on the northern tip of Moorea that separates the districts of Papetoai and Haapiti - three motu (islets) share the horizon together. In Moorea as in Bora Bora, or on every atoll in French Polynesia the motu offer some of the best beaches in Moorea. For a full discovery of the island, you can visit them on a boat tour on the lagoon with a guide. 
Fare One is in the foreground, then you will discover Tiahura, the popular motu where people like to picnic on the beach. In the distance, finally, you will see a sandbank called Irioa, where, in addition to Mahina's Pointe Venus (Tahiti), Cook's naturalists set up a camp in 1769 to analyze the transit of Venus viewed from French Polynesia.
Back to Tiahura. You really shouldn't miss its sandbar. The water is colored with white, light yellow, emerald, and turquoise shades. The children are playing, the cooler is full of food and drinks, and conversations are going well. However, you might be interrupted… because a stingray comes to greet you. Moorea is a real paradise!
Important reminder to travel safely: In every island of French Polynesia, many activities are available on the water. In Tahiti, Moorea, Bora Bora and everywhere else, it is important to adopt the right precautions to share the beach and the lagoon with others in complete safety. Avoid any accident when going for a swimming or snorkeling session by indicating your presence at the surface. Use a floating object - like a signal buoy - visible to other sea users, such as jet skis and motor boats. Following this precaution can save your life in French Polynesia and on every island and beach of the world.