Special meals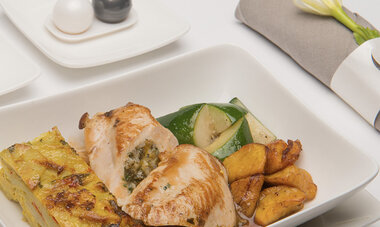 Air Tahiti Nui offers a large choice of special meals for passengers with special dietary requirements or for religious reasons. 
You can order your special meal at the time of your booking or at least 48 hours before your flight from our sales advisers or your travel agency.
Special Meals Description
Meals adapted to babies or children
Baby Meal: Suitable for infants up to one year old. This meal contains baby jars.
Kids Meal: Suitable for children between 2 and 7 years old, less consistent than an adult meal, but suitable to children's taste and are easy to eat and digest.
Meals adapted to specific medical conditions
Low-salt meals: Meals with no added salt and low sodium levels.
Meal adapted to diabetics: Meal rich in fiber, without added sugar and containing little fat and no fried and breaded products. 
Low-fat meal: Meal low in fat and cholesterol, suitable for people who wish to follow a low-fat diet.
Gluten-free meal: Recommended for people with gluten intolerance.
Vegetarian or fish-based meals
Vegan Meal: Strictly vegan meal based on vegetables, fruits and grains, without animal products, including eggs, dairy products and honey. 
Vegetarian Meal: Meal based on vegetables, fruits, grains, dairy products, eggs and honey. This meal excludes meat, poultry, game meat, fish, shellfish, gelatin and rennet.
Seafood Meal: Meal based on fish, shellfish, mollusks, seafood...
Religious Meals
Kosher Meal: This meal is prepared in accordance with the requirements of Judaism, under the supervision of a rabbi
Muslim Meal: Recommended for passengers of Muslim faith. All food of animal origin is from animals slaughtered according to Islamic rites. This meal excludes pork and pork products (including gelatin), beverages or alcohol-based preparations
Information regarding allergies
We cannot guarantee the absence of allergens in the ingredients used for our meals.
If you are allergic to certain foods, please plan your meal and arrangements to keep it fresh. It cannot be refrigerated or reheated on board.